The Path to Liberation: Making God's Word Our Home
Consider the liberating power of integrating divine teachings into our lives, understanding God's truth, and journeying towards the profound spiritual freedom that truly sets us free.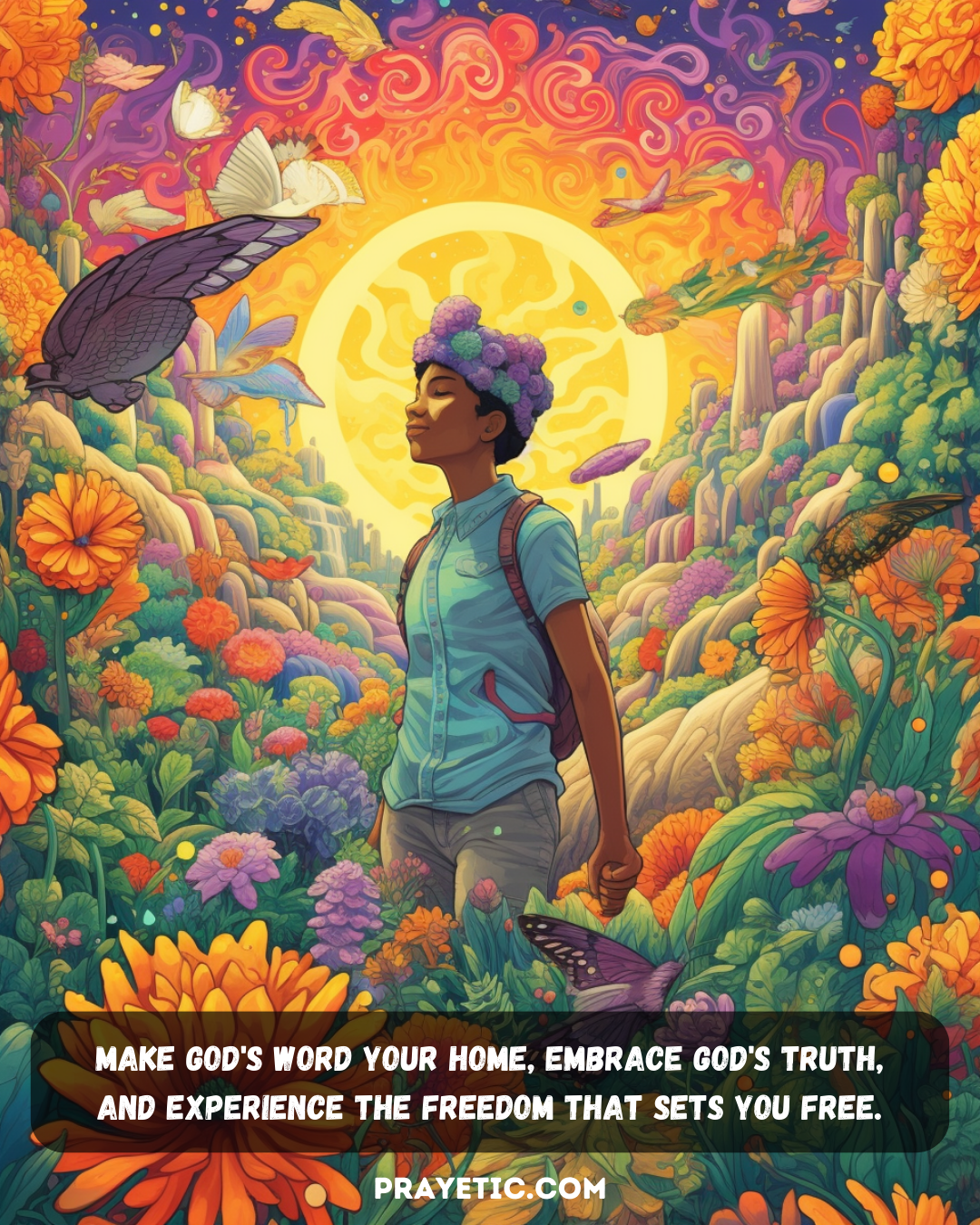 Make God's word your home, embrace God's truth, and experience the freedom that sets you free.
Reflecting on this quote stirred a cascade of thoughts and emotions. The core of its message resonates deeply with the notions of faith, truth, and the liberating power of divine wisdom.
5-minute Prayetic.com Morning Meditation
When I consider the phrase, "Make God's word your home," I find myself contemplating the profound impact of integrating Jesus' teachings into our daily lives. Just as our homes provide us with comfort, shelter, and a sense of belonging, God's word, when deeply ingrained in our hearts, lends us guidance, strength, and a  sense of spiritual connectedness. Faith in this context becomes not just a belief, but a sanctuary, an place of refuge where our spirits find solace, direction, and safety.
The quote urges us to "embrace God's truth." To me, this is an invitation to look beyond the superficial and to accept the God's truths that underpin our existence. Just like welcoming a dear friend into our home, embracing God's truths invites enlightenment and wisdom into our lives. All of this aides us on our journey to spiritual maturity, which is a continuous process of embracing and internalizing God's truths.
Then comes the promise of "experience the freedom that sets you free." Paul in Galatians 5:1 says,
It is for freedom that Christ has set us free. Stand firm, then, and do not let yourselves be burdened again by a yoke of slavery.
This powerful statement reminds me that aligning ourselves with God's word and truth does not merely liberate us in a physical or temporal sense, but provides an even greater, deeper form of freedom. This freedom is spiritual, arising from the shedding of ignorance, doubts, and fear.
Today is a good day!